The Patriot-Texas War, also known as the Patriot Purge, was a conflict between Texas and the Patriots.
History
The war between
Texas
and the
Patriots
started when
Miles Matheson
and the others exposed the Patriots' crimes to Texas, including the assassination of General
Bill Carver
. President
Jack Davis
,
Edward Truman
, and the other Patriots are declared war criminals. President Davis was arrested and Truman is now a wanted fugitive on the run. The
Texas Rangers
launched an attack on the Patriots, and the war between Texas and the Patriots lasted for six months.
The Patriot Purge
The Patriot Purge was a major event that is part of the Patriot-Texas war in which all the members of the Patriots were killed by Texas, during the war. The Patriots were wiped out, and the war ended with
Washington D.C.
under control by the Texas Rangers and the
White House
being captured.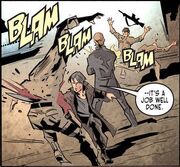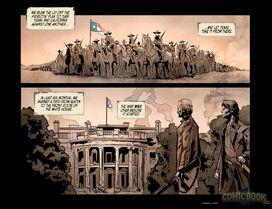 The Aftermath
In Revolution (DC Comics series), Miles, Charlie Matheson, and Sebastian Monroe hunted down some remaining Patriots who survived the purge, forty miles north of Willoughby, Texas. The last known Patriots to die were Jack Davis and Edward Truman in Bradbury, Idaho. It is unknown if Texas ever restored democracy to the rest of the country, or if they ever attempted to restart the United States of America.
Ad blocker interference detected!
Wikia is a free-to-use site that makes money from advertising. We have a modified experience for viewers using ad blockers

Wikia is not accessible if you've made further modifications. Remove the custom ad blocker rule(s) and the page will load as expected.