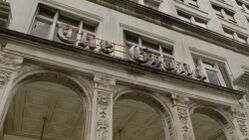 The Grand Hotel is a hotel in Chicago, Illinois
History
Pre-Blackout
Aaron Pittman got married to Priscilla Pittman here before the black out.
Post-Blackout
Fifteen years later Miles Matheson returned to Chicago and turned the Grand into a combination bar/residence. The first floor was an expansive tavern, while he lived on the second floor. It was decorated with various trophies and paintings that he took from around the city.  Charlie Matheson, Jason Neville, Maggie Foster and Aaron Pittman later came here looking for him, and along with Miles they managed to  fight a Monroe Militia squad that was sent to kill him.
Ad blocker interference detected!
Wikia is a free-to-use site that makes money from advertising. We have a modified experience for viewers using ad blockers

Wikia is not accessible if you've made further modifications. Remove the custom ad blocker rule(s) and the page will load as expected.