St. Louis is a city in the state of Missouri in between the Plains Nation and the Monroe Republic.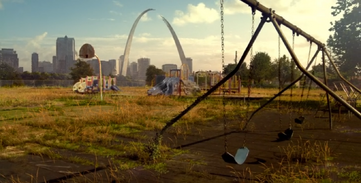 History
After the Blackout, the city was mostly abandoned, became overgrown with plant life and part of the arch collapsed. Troops from the Georgia Federation and the Plains Nation attacked Monroe Militia troops near this city. 100 Militia soldiers were lost.(Pilot, Soul Train)
Ad blocker interference detected!
Wikia is a free-to-use site that makes money from advertising. We have a modified experience for viewers using ad blockers

Wikia is not accessible if you've made further modifications. Remove the custom ad blocker rule(s) and the page will load as expected.