Shirlee Jenkins is a commanding officer for The Patriots, stationed in Austin, Texas. Her current status is unknown after the Patriot-Texas war.
Biography
Post-Blackout
Shirlee owns a gun store at 19 Arnell Street in Austin, Texas, where she sells firearms and supplies. She owns an apartment above the store that she rents out.
However, this is just a front, as she is also a high-ranking officer for The Patriots.
When
Charlie
and
Connor
enter her store, she had just sold a gun to a family, meant as a present for their son. Charlie asks her if she can ask a couple of questions. Shirlee replies that only for paying customers. Connor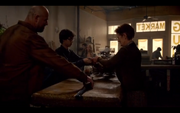 gives her some money for some beef jerky and asks if she has seen a couple of kids from out of town over the past few days. Shirlee tells them that they are renting her apartment upstairs, and asks them to tell the newcomers to keep quiet and pay their rent.
She is later present at General Carver's speech. She sees Jason, and gets help from another Patriot to bring him to a more secluded place where she reads the number on his eyelid out loud, telling him who she is and the plan to kill General Carver. She hands Jason a bag with a sniper rifle inside and tells him that he is their backup plan.
Shirlee's fate is unknown, since Texas declares war on the Patriots in the Season 2 finale. The Patriots were wiped out in the Revolution (DC Comics series).
Ad blocker interference detected!
Wikia is a free-to-use site that makes money from advertising. We have a modified experience for viewers using ad blockers

Wikia is not accessible if you've made further modifications. Remove the custom ad blocker rule(s) and the page will load as expected.