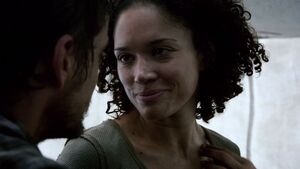 Shelly was Sebastian Monroe's girlfriend.
History
Post-Blackout
Shelly was pregnant with Monroe's child at the refugee camp in 2015. During childbirth, there were complications and she died, along with the baby. Her death changed Monroe, and started him down the path of becoming the dictatorial leader of the Monroe Republic. (Dead Man Walking)
Ad blocker interference detected!
Wikia is a free-to-use site that makes money from advertising. We have a modified experience for viewers using ad blockers

Wikia is not accessible if you've made further modifications. Remove the custom ad blocker rule(s) and the page will load as expected.