Sara Wilkerson is a resident of Willoughby, Texas, but was captured by Titus Andover's War Clan.
Biography
She and her family were attacked by the Andover Clan and she and her son were taken. Miles Matheson went after them but was unable to locate them. She was locked up in a cage and watched as her son was taken into another room and never came back. When Miles was also captured and escaped he tried to free her but was attacked and had to surrender when Garrett threatened to kill her. She was later freed by Rachel Matheson and some others and went back to Willoughby, Texas . (Born In The USA, There Will Be Blood, Love Story)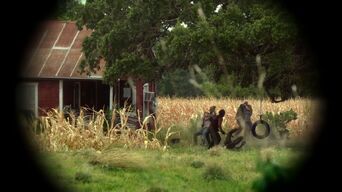 Ad blocker interference detected!
Wikia is a free-to-use site that makes money from advertising. We have a modified experience for viewers using ad blockers

Wikia is not accessible if you've made further modifications. Remove the custom ad blocker rule(s) and the page will load as expected.