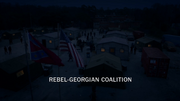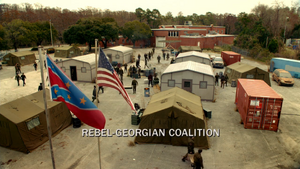 The Rebel-Georgian Coalition is a joint military group comprised of Rebel forces and Georgian Army soldiers.
History
The coalition was established by Miles Matheson and President Kelly Foster. Miles was given 200 Georgian troops and weapons to lead against Militia forces. They won several battles at Carbondale, Marion, and Evansville. Eventually Sebastian Monroe began to use unmanned drones to attack their forces. (The Night The Lights Went Out In Georgia, Home, The Longest Day).
See also
Ad blocker interference detected!
Wikia is a free-to-use site that makes money from advertising. We have a modified experience for viewers using ad blockers

Wikia is not accessible if you've made further modifications. Remove the custom ad blocker rule(s) and the page will load as expected.