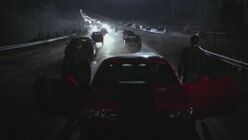 Port Royal is a city in South Carolina.
History
Post-Blackout
On the night of The Blackout, Miles Matheson and Sebastian Monroe are driving on Interstate 95 when Miles receives a frantic phone call from Ben Matheson warning him that the Blackout is going to happen; a few minutes later Miles and Bass's phones die, then every car on the highway rolls to a stop.  Miles asks Bass what is going on
2027
By 2027, the city has became part of the Georgia Federation. Its current status is unknown.
Ad blocker interference detected!
Wikia is a free-to-use site that makes money from advertising. We have a modified experience for viewers using ad blockers

Wikia is not accessible if you've made further modifications. Remove the custom ad blocker rule(s) and the page will load as expected.