Noblesville
 is a town in Indiana in the 
Monroe Republic
.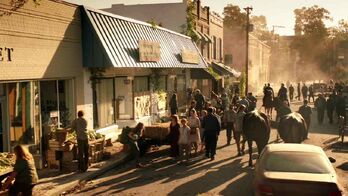 Overview
Locations
Noblesville Bank and Trust
Noblesville train station
Noblesville railroad museum
History
Post-Blackout
Captain Tom Neville was transporting Danny Matheson here so he could be moved to Philadelphia. A steam Train was being assembled here to facilitate the movement of troops and supplies across the Republic. (The Plague Dogs, Soul Train)
Ad blocker interference detected!
Wikia is a free-to-use site that makes money from advertising. We have a modified experience for viewers using ad blockers

Wikia is not accessible if you've made further modifications. Remove the custom ad blocker rule(s) and the page will load as expected.