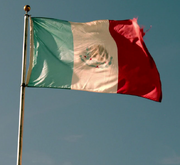 Mexico is a nation in the North American continent.
History
Post-Blackout
Not much is known about Mexico post-Blackout other than that it somehow managed to survive largely intact and became one of the richest of North America's republics.
At some point after the Blackout and after the rise of the Monroe Republic, Miles Matheson took Sebastian Monroe's son Connor Bennett to Mexico for three reasons: he had relatives there, it is wealthier than most republics, and it far away from Monroe.
In 2028 Miles, Monroe, and Rachel travel to Mexico to find Connor.
Government
Not much is known about the Mexican government other than that it is a republic and has a well armed border patrol.
Economy
According to Miles Matheson, Mexico is one of the wealthiest nations post-Blackout. Because of its apparently thriving economy, many people of the other nations attempt border crossings in search of work there.
Military
Not much is known about their military other than that they have soldiers positioned at the Mexican-Texan border and have also built a wall to keep the Texans out.
Geography
Mexico borders Texas to the north and the Wasteland to the northwest. The California Commonwealth expands towards Mexico's Baja Peninsula. Mexico and England are the only currently known functioning nations outside of the current borders of the United States. Beyond this little is known.
Inhabitants
Susan Bennett (Deceased)
Gary Bennett (Deceased)
Various townspeople
Locations
Puesta del Sol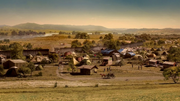 Gallery