The M35 family of trucks served the United States military and it's allies for decades before the Blackout. Lately, various post-Blackout republics have begun to use them again.
History
Pre-Blackout
The M35 was in service with the branches of the United States military, including the United States Marine Corps, from 1951 to 2010, but it served with many National Guard units until 2012, when the Blackout occurred. Before the Blackout, they found many uses, from hauling large amounts of cargo and supplies, to transporting dozens of soldiers. However, their most remarkable role was during the Vietnam War, when several were re-fitted with armor plate and machine guns to protect supply convoys from Viet Cong attacks.
Post-Blackout
About eleven years after the Blackout, Sebastian Monroe began to collect any modern military vehicles and equipment that he could find. These trucks had all former military markings overpainted and the encircled M painted on the doors in white. One M35, painted in the standard NATO camouflage scheme of black and brown patches over dark green, was seen in Philadelphia undergoing repairs along with several other vehicles. A desert tan truck was used during the Militia raid on Echo base; it carried a pendant amplifier and about a dozen soldiers. Another one was part of Tom Neville's convoy when it was destroyed by a powerful IED that lifted the entire vehicle off of the ground.
A burned-out M35 was later seen in the aftermath of the Battle of Evansville, indicating that the Militia there may have had a pendant amplifier. One truck was seen among the vehicles being prepared by the Georgia Federation, but without a pendant amplifier, it was useless. Many long-abandoned trucks were seen in and around Fort Hanson, including a dump truck and a wrecker version. These were all painted in the standard NATO scheme.
Variants
The most common variant is the M35A3. This version was produced from 1994 to 1999 as part of a massive service life extension program. They received new Caterpillar 3116 diesel engines and an automatic transmission. This provided more power and reduced the risk of fire. They are most commonly seen wearing 3 tone NATO camouflage of black and brown spots over dark green, but a few have been seen painted in overall desert tan as well. They have so far been seen in the armies of the Monroe Republic and the Georgia Federation.
At least one M60 wrecker was seen at Fort Hansen. It was a flatbed with a large crane on the back for lifting smaller vehicles, large amounts of supplies, and other cargo. It was painted in the typical NATO camouflage scheme.
Also at Fort Hanson was one M342 dump truck conversion. It replaced the bed of the truck with a large, low-sided dump box capable of holding large amounts of dirt and other debris. It was also painted in the NATO scheme, and was likely part of a construction battalion.
Users
Monroe Republic
The Monroe Republic has been collecting M35s and other military hardware since about 2023. Most of them are painted in overall dark green with black and brown blotches, while some are painted sand overall. They all have the Monroe Militia insignia painted on the doors. Since Monroe's forces were re-powered by Randall Flynn, they have been used to transport large numbers of troops and supplies around the Republic. Along with Humvees, they form a rapid assault force of sorts.
Georgia Federation
It is unknown when the Federation obtained M35s, but they possibly came from
Parris Island, South Carolina
. The Georgian army was preparing some of them, along with other vehicles, as the Monroe Militia closed in on Atlanta. Most of them were used for carrying supplies and/or troops, but at least one had an ad hoc machine gun mount in place of the bed. They are painted in the standard NATO scheme, and have the Federation insignia painted on the door.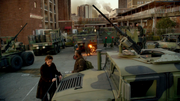 Ad blocker interference detected!
Wikia is a free-to-use site that makes money from advertising. We have a modified experience for viewers using ad blockers

Wikia is not accessible if you've made further modifications. Remove the custom ad blocker rule(s) and the page will load as expected.