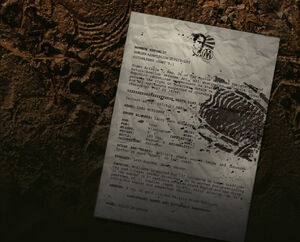 Avery Allinane is a Georgia Federation intelligence operative within the Monroe Republic. Her actions caused her to be put on a Monroe Republic watch list.
Biography
Born in 1991 in Tallahassee, Florida. She has brown hair and green eyes and has a white complexion. She is 5" 7 tall and weighs 100 pounds.
Post-Blackout
She is a spy for the Georgia Federation - her occupation before the Blackout is unknown. She also does not have any scars or tattoos but does wear multiple hairstyles and wigs.
Averys known aliases are: Emily Swan, Avery O'Hara, Amy O'Neil, Annie Dillard and Avery McGinnis. The reward for her capture is 15 lbs. of gold or 300,000 Militia Trade Dollars.
Trivia
One of her aliases, Emily Swan, could be a nod to the film Pirates of the Carribean: Curse of the Black Pearl.
Ad blocker interference detected!
Wikia is a free-to-use site that makes money from advertising. We have a modified experience for viewers using ad blockers

Wikia is not accessible if you've made further modifications. Remove the custom ad blocker rule(s) and the page will load as expected.